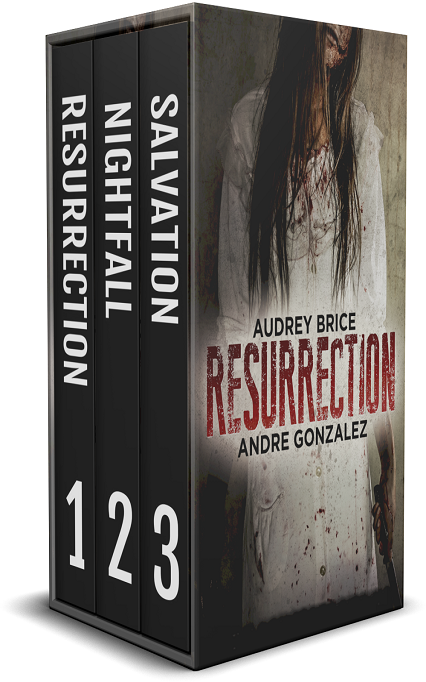 Resurrection:
Some legends should stay buried.
Amelia Doss is a name whispered in Ridgeway, part of a bloody history that residents would rather forget. For Tyler Reynolds and his friends, tempting fate with a ritual to release Amelia's unquiet spirit is just a game to pass the time. That is – until the murders start all over again.
For Tyler, it's the beginning of a series of horrors, prompting him to question his belief in an afterlife, unearthing a subtle link between himself and the unspeakable evil that stalks the town. With the clock ticking, can Tyler figure out the connection before time runs out, or will he become the next victim?
Nightfall:
How do you kill what's not alive?
Tyler Reynolds longs for normalcy after surviving the brutal attacks that plagued his small town. Now, he and his best friend, Danny, have moved to the big city to start their college careers, believing the distance will keep them safe.
All is well . . . until a familiar pattern of murders begins to emerge around campus. The boys hesitate to jump to conclusions, but as the body count rises and the deaths inch closer, they must face a cold reality. She's back.
For Amelia Doss, finishing the job is her only concern. She refuses to back down – no matter how much blood has to be spilled to get her revenge.
Salvation:
What is living within the walls?
After fifteen long years, Tyler Reynolds moves back to Ridgeway, believing the nightmare of Amelia Doss is over. When his wife and their two young children begin having supernatural experiences in their new house, Tyler fears the worst. He enlists his best-friend, Danny, and the former sheriff of Ridgeway, James Abbott, to help him put together the pieces. When the murders start up again, there is no doubt that Amelia Doss is back.
Amelia emerges from the grave to discover a new set of powers, and new, dark friends. She has only one thing on her mind – kill Tyler Reynolds and whoever gets in her way.